Yep, Min. That's the point of the coalition. We're expecting resistance ~ lots of it. But we're ready for them. Unity is strength an' all that.
Anyway, onwards and upwards, as they say! Since the last Newsletter, we've had several new members to the coalition, including Lutz Fiedler, the state archaeologist of Hesse in Germany, who is known for having discovered what is thought to be the earliest representation of the human form, the Venus of Tan-Tan.
Wiki quote on Venus of Tan-Tan
The Venus of Tan-Tan is an alleged artefact found in Morocco. It is 6 centimeters long quartzite rock, and has been interpreted as a depiction of the human form, gender indeterminate and faceless, dated between 300,000 and 500,000 years ago. It was discovered in 1999, during an archaeological survey by Lutz Fiedler, state archaeologist of Hesse, Germany, in a river terrace deposit on the north bank of the Draa River a few kilometers south of the Moroccan town of Tan-Tan.

It and its contemporary, the Venus of Berekhat Ram, have been claimed as the earliest representations of the human form.

There is some controversy amongst archaeologists as to its nature and origin. To its discoverer and others, e.g., Robert Bednarik [1], the object had a general human-like shape that was accentuated by carving it with a stone-wedge; some artificial smudge stains are interpreted as remnants of red ochre pigments used by humans to further accentuate the human-like form.

For others, for instance Professor Stanley Ambrose of the University of Illinois, Urbana-Champaign,[2] the rock's shape is just the result of natural weathering and erosion, which coincidentally produced a remotely human-like object.
Lutz is also the discoverer of the Erfoud manuport, which looks like a penis. This is also about 300,000 years old and here is a link to
its description, comment and photo
by another Pleistocene Coalition member, Jim Harrod.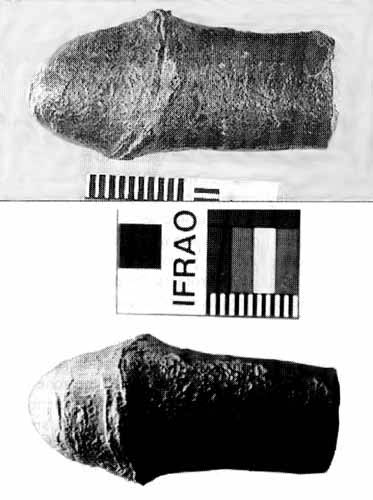 There will be article in the November Newsletter (out in three weeks) on "Pre-symbolic interaction and the palaeo-ecology of religion". This will be derived from a paper which was jointly written by Lutz and PC member, Jorn Greve, a lecturer at the University of Bremen, Germany.