You just gotta love that Mr Mandelbrot! It took a guy like that to open my eyes to The Truth!!!!
No wonder I've always been so dirt poor! I wouldn't say I was trailer trash - but only because we don't have trailers in the UK.
I blame my old maths teacher. She used to insist, despite my protests, that a negative and a negative made a plus.
"–2 + –2 = 4," she'd drum into us.
But if –2 + –2 did really equal 4, I'd be rolling in millions now. I'd have hired Fiona Shackleton. And my two exes would have had to cough up £2 million each – not to the mention the diamonds, the minks and the houses in Monte Carlo and Aspen.
Instead, the first one gave me 50p for the bus. And the second one tried to sue
me
.
The upshot was that I was £2 million down after the first husband, and another £2 million down after the second.
But now that gorgeous Mr Mandelbrot has finally stood up and spoken the truth! Whadda guy! A negative plus a negative equals a
negative
, of course!

–2 + –2 = –4.
Negentropy, he calls it. I'll make sure my lawyer includes that word on the writ when we sue my old maths teacher for the cool four million.
Taraah for now!!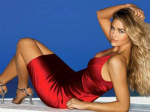 Glenda Slagg

Gossip columnist/Chaos theory correspondent