On 4th November 1999, British television viewers were treated to a Horizon special documentary, which examined the theories of Graham Hancock concerning a lost civilisation from 10500 BC. The documentary, entitled 'Atlantis Uncovered', focused on (a)

the Giza pyramids and Orion's Belt alignment;

(b) the temples of Angkor Wat and Draco alignment; (c) the age of the Sphinx; (d) the age of Tiwanaku; (e) the theory of a lost civilisation beneath the ice of Antarctica; and (e) the significance of the sunken site of Yonaguni in Japan.

Beginning with the Giza pyramids and Orion's Belt, Horizon interviewed the American astronomer/mythologist Dr Ed Krupp, who demonstrated that

the alleged match between the pyramids and Orion was in fact upside down, or rotated through 180 degrees

. If the Egyptians were commemorating the position of Orion at 10500 BC, why did they build the pyramids according to an upside down design?

In any event, Horizon then turned their attention to more serious matters, pointing out that of the sixteen stars in Orion, only three could be matched to the pattern of pyramids in Egypt, and that no other convincing correlations of pyramids and stars could be found. Hancock's response was:

"I don't need every pyramid of Egypt to match a star - the people who built these monuments were making a grand symbolic statement, supposed to be understood on an intuitive and spiritual level."

(you could say the same of Hancocks understanding or real egyptology)

Horizon then pulled a trump card, citing the astronomer Anthony Ferrell, who in June 1999

demonstrated that the match of the Giza pyramids and Orion's Belt in 10500 BC was nowhere near as accurate as claimed

. Instead of a precise 45-degree angle from north in both cases, Ferrell found the pyramids to be at an angle of 38 degrees, with the stars at an angle of 50 degrees. Hancock did not appear to take issue with these figures, but instead admitted:

"the [alignments] are NOT absolutely correct, and I don't care

. I have to stress that in my view the ancient Egyptian priesthood was not staffed by anal-retentive bureaucrats. They were a group of creative and imaginative thinkers..." Earlier,

Hancock had apparently backtracked

on his accurate alignment hypothesis by claiming that the Egyptians were merely making "

a pleasing symbolic resemblance

to what they saw in the sky on the ground."
and this is just what Alan "awful" Alford had to say about Hancocks ideas about Egypt
you remember him
he was the one looking nervous in this photo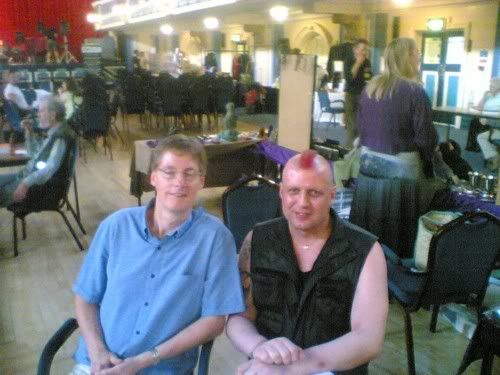 probably thinks I'm gonna ask him about his accountancy qualifications to write history books
still as long as he doesnt stand by things he wrote in Gods of thenew millenium then hes cool with me
heres something of his
"Alan F. Alford concluded that Negroid Slaves of the Tihuanaco Culture made the Nazca-Lines. After a revolution the Negroid population destroyed some figure, this is the explanation for overdrawn zigzag-formations. Later this people went in northern direction and founded Chavin and the Olmec culture. "
heres what he had to say about that in june 2005
Hi Steve,

No I don't stand by that statement and I wouldn't want you to use it. In recent years all printed copies of GOTNM ppbk carried a foreword in which I retracted many of the ideas in the book. For the detailed retraction, see the self-critique on my website under the section Human Origins/Ancient Astronauts.

All the best to you

Alan Alford

http://www.eridu.co.uk
hehe
see unlike Hancock Alford has now retired from writing pseudohistory books and emigrated to Nepal (don't ask)
so he doesnt have to continue to knowingly lie to his readership like Hancock to ensure the gullibility dollars keep rolling in